Free Online Invoice Service
Website invoice.zoho.com
Online Invoice Demo
Zoho Invoice Blog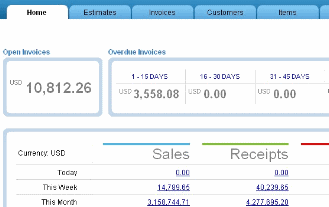 Free Online Invoice Service : Zoho Invoice Dashboard
Zoho Invoice is a easy to use, heavily customizable free online Invoice service. You can register with Zooh or login into it with your google or yahoo account. In Zoho Invoice their are separate section for Customers, Items, Estimates & Invoices for better maintenance. Where you can view their list & modify them easily by adding new entries, editing Data & deleting entries. From the Zoho Invoice Settings you can, set Multiple Currency & the Tax Information, choose your Invoice & Estimate Templates, change the Zooh Logo With your Company logo to send branded invoices. Here is more Zoho Invoice service Features :
- Create and send branded invoices, quotes or estimates.
- Automate repeated invoicing through recurring invoices.
- Track outstanding invoices and customer payments. Accept payment online.
- Send overdue reminders, acknowledge payment receipts.
- Data security and backup. SSL encryption of data on transit.
- Powerful reports to see how your business is doing.
Zoho Invoice Related:
Business Inventory Software
MS Office Accounting Express 2008
Free Personal Information Manager