Wavosaur a Powerful Free Audio Editor
Wavosaur 1.0.0.9 Release Date: 2007-07-01
Wavosaur 1.0.0.9 File Size: 183KB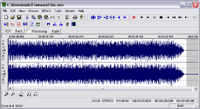 Wavosaur is a powerful free audio editor for Windows XP, ideal for editing audio clips, sound designing, mastering, audio mangling and recording of your digital audio sounds.
Wavosaur lets you edit all your samples and audio recording. You can cut, copy, paste parts of your digital recording. Wavosaur provides many tools and shortcuts to make the editing very fast and efficient. The program was designed to give a powerful audio editor but very easy and fast to use.
Wavosaur Features:
Cut ,copy, paste, trim-crop
Loop points creation and markers
VST host, effect chaining
MIDI implementation
2D Spectrum analysis
3D Spectrum analysis
Sonogram
real-time oscilloscope waveform, FFT & pan
Insert silence, fade, normalize, vocal remover etc.
Complete statistics about the waveform
AIFF, WAV, raw format support
MP3 import
Recording soundcard input
Audio conversion
And many more...