Vocabula File size: 1.35 MB
Vocabula Website: creativemindsoftware.com
Vocabula Requires Microsoft .NET Framework 2.0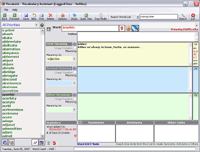 Vocabula is a utility software, designed to improve your vocabulary skills. User can gradually build a sophisticated user oriented dictionary in any language (as long as you have the right font) and you can share it among your friends too! Vocabula will periodically come out of the Sleeping mode, asking words and meaning so that you may never forget them! Or you can study new words periodically, check your memory with quick checks.... or even can check the web for word meanings and usage patterns!
Vocabula is designed with the GRE type user in mind. Exams like GRE are very vocabulary intensive exams. This software can greatly improve your vocabulary with its numerous features!
Apart form general English vocabulary building Vocabula can also be used to build custom dictionaries in highly specialized fields like engineering or medicine.
Vocabula-Compatible word list may be downloaded at the developer´s website.
Download Free Vocabula v 1.0