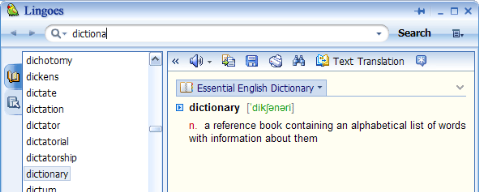 Download Free Lingoes 2 the free Dictionary & Translator
Lingoes File size: 11.8 MB
Lingoes Website: lingoes.net
Lingoes is an easy-to-use dictionary and text translation software, It offers lookup dictionaries, text translation, cursor translator, index list and pronunciation of word in over 60 languages. These language are English, French, German, Spanish, Russian, Chinese, Japanese, Korean, Italian, Portuguese and more.
Lingoes owns full features of current popular commercial software, and creatively develop cross language design and open dictionaries management. A plenty of dictionaries and thesauruses are listed for free download. Lingoes is the best tool for learning all kinds of languages.
Shift  key for the cursor translation:
You can translate words in any places of the screen by using the cursor translation function of Lingoes. Simply pressing Shift key, the system will automatically recognize the words selected by the cursor and display results.
Free dictionaries and thesauruses download
We are going to provide thousands of dictionaries in all kinds of languages and field for users to free download and use. Now these data are updating every day...
Open management of dictionaries
The open management makes you easily download and install dictionaries according to you own needs, furthermore you can freely configure their arrangements and themselves.
Online dictionaries and Wikipedia
Without local dictionaries, you can make use of online dictionary service and get more results. We also offer online encyclopedia, for instance Wikipedia with 9 languages and 3,500,000 articles.
Words and Texts Pronunciation
Lingoes provides the function of words and texts pronunciation based on the newest Test to Speech (TTS) engine, which can help you quickly learn the pronunciations of the words and is very convenient for study and memorizing
Cross-translation over 60  languages
Lingoes offers text translation and dictionaries in over 60 languages in the world, it supports cross translation between different languages. These languages include English, French, German, Russian, Spanish, Italian, Portuguese, Dutch, Swedish, Chinese, Japanese, Korean, Vietnamese, Esperanto and more..
You can download Lingoes Library Dictionary and Translation Add-on:
2001 - Oxford Advanced Learner's Dictionary 6.01 MB | 35201 words
1300 - Longman Dictionary of Contemporary English 9.56 MB | 43420 words
2005 - Collins COBUILD Advanced Learner's English Dictionary 6.14 MB | 32730 words
2003 - WordNet English Dictionary 10.05 MB | 147249 words
Lingoes The Best Free Dictionary Related:
Windows 8 Dictionary App
Google Translate on Desktop
Free Vocabulary Learning software
WordWeb : Free Dictionary Software