InstantStorm Flash Screensavers Creator File size: 2.76 MB
InstantStorm Website: czokl.com
Download InstantStorm v 1.5.0 Flash Screensavers Creator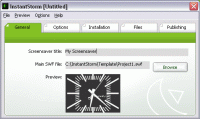 InstantStorm is the first free professional Flash screensavers Creator. Select your Flash SWF file, set some options and compile an executable installer! To make creating screensavers very easy, you can use New project wizard and compile a professional screensaver in three steps.
InstantStorm Flash Screensaver Creator Main Features:
100% free for all purposes: non-commercial and even commercial with unlimited redistribution
Screensaver scale options
Easy to use WYSIWYG designers for your screensaver's installer, uninstaller and settings dialog
Wizard mode for beginners
Interactive screensavers support
Customizable screensaver icon file
Ability to create screensaver desktop and Start menu shortcuts
External files support (when your SWF file requires external files like TXT or AS, InstantStorm allows you to include them)